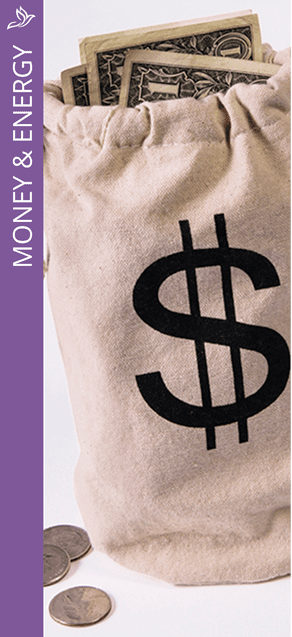 Online and In-Person Money Healing
Our beliefs about money and finances are influenced by our family upbringing, our education, our profession and our current relationships. Even the current world economic and political climate can create fear and anxiety in us regarding our financial stability.
The topic of money seems to be a very objective subject on the surface. Money has emotional and energetic charged issues. An individual's relationship and experience with money is usually deeply reflected in their beliefs about abundance and prosperity versus scarcity.
Using a holistic approach to address money helps individuals to examine their personal history with and core beliefs about money. This allows the individual to process the deep and powerful emotions they hold about money and establish healthful attitudes and behaviors.
The goal of dealing with money holistically is to shift the individual's money outlook from one of scarcity and lack to one of self- empowerment. Everyone has the ability to approach money with an attitude of abundance and prosperity. Shifting your beliefs and feelings about money simply takes a willingness to openly and honestly explore your history and patterns with money and look at the beliefs that this has instilled.
Linda Darin helps you explore how having or not having money affects your life physically, mentally, emotionally and spiritually. Our physical needs – food, shelter, warmth, clothing, etc. – are not the only aspects of our life affected by how much money we have. Money, and the issues it raises for us, also triggers our beliefs and thoughts about who we think we are, who we are afraid we are, and who we really are. We experience various emotions depending on how we perceive our flow of money is at any given time. By exploring our relationship with money in depth, we can shift our beliefs and process our feelings in order to reach a more balanced and heart-centered approach to money.
The Darin Method® will explore patterns, beliefs, emotions and physical and mental symptoms associated with money. Linda will assist the client in using a combination of healing modalities on the healing table to release the blocked energy within the body associated with money.
Sessions addressing money may focus on the individual or they may include a partner or even the entire family. Money is not just an individual issue. It is a matter that deeply affects partnerships and the entire family dynamics. Confronting and processing the emotions related to money holistically is a step towards gaining authenticity and self- empowerment in all aspects of your life.
If you have questions or would like to schedule an appointment simply call 1-914-500-3712 or fill out the short form and I will be in touch with you ASAP. I am here to help. I welcome your questions, want to learn more about you, and help guide you to a better life. Worldwide Virtual Online Sessions and NYC Holistic Healing.